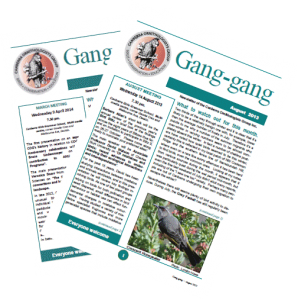 Gang-gang is COG's monthly newsletter.  As well as administrative notices it gives details of upcoming trips and meetings, reports on past trips, a regular column about the seasonal comings and goings of birds in Canberra and other articles on bird related topics.  The newsletter carries paid advertisements (free to members) which can be organised by contacting the editors.
Gang-gang is produced electronically and available to members and the public by downloading the pdf file from this page. Members are notified by email as soon as a new edition is available.
Gang-gang is published every month except January.

All Issues
2023
2022
2021
2020
2019
2018
2017
2016
2015
2014
2013
2012
2011
2010
2009
2008
2007
2006
2005
2004
2003