The Wednesday walk for October will be to Mulligan's Flat, with an initial focus on the Big Dam. Meeting at 09:00 we will park as shown in the following image, saving a fair step to get to the Dam.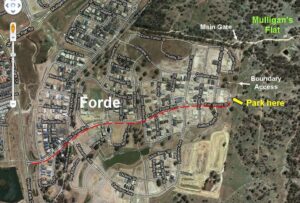 We will be joined on this outing by members of Bird Life Southern Highlands. I expect the visit to Mulligans Flat to finish about noon, and further entertainments will be on offer afterwards. This will include a crake-hunt on the Forde ponds and a trip to Shepherds Lookout after lunch. The originally proposed visit to Yerrabi pond has been given away as it appears to have few/no waterbirds at present.
We may visit a venue in Gungahlin for our guests to acquire lunch (rolls, pies etc not a sit down down job) at some point in the process. Canberra attendees who wish to extend might want to brown bag instead.