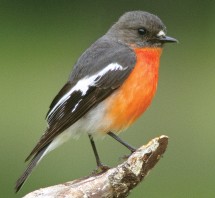 Steve Wilson OAM
This book is dedicated to the memory of Steve Wilson OAM (1912‑2009), a past president and life member of Canberra Ornithologists Group (COG) and to his wife Nonie. Steve is warmly remembered by COG for his intellectual leadership and extensive knowledge of the birdlife of the ACT and region. He was tireless in his efforts to document the abundance and distribution of birds in the ACT through extensive pioneering work in mist-netting and banding native birds in the Brindabella Range, along the Murrumbidgee Corridor, at the Botanic Gardens and several other sites around Canberra. A number of his protégés in this work have gone on to play key roles in Australian avian research.
His book, Birds in the ACT: Two Centuries of Change (1999), published when he was 87 years if age, is a scholarly examination of the presence, abundance and distribution of birds in the ACT based on all available records.
Steve and Nonie Wilson provided a garden bird survey chart for the first 23 years of the survey. His survey detailed the numbers and occurrence of some 115 species at or near his Canberra garden.