COG's 50th Year Gang-gang Survey Project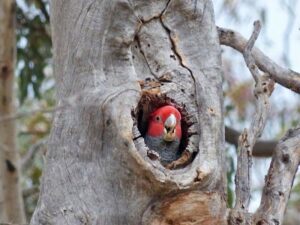 One of the special activities to mark 2014 as COG's 50th Year was a "citizen science" project to learn more about the ACT's faunal emblem and COG's Bird of the Year — the Gang-gang Cockatoo.
The survey was a new venture for the Canberra Ornithologists Group (COG) where observations from the general public were encouraged, the survey went over a specific period, there were two different surveys embedded in the one project and where observations could be recorded on paper forms or on-line.
The aims of the project were to expand our knowledge of the Gang-gangs within the COG area of interest, involve the membership and general public in a project on birds and promote the activities of COG. The public were asked to submit Gang-gang observations from the ACT and local region. There were 7189 records submitted. In addition to these primary observations, there were 6160 secondary observations giving a total of 13,329 Gang-gang records for analysis.
Project Outcomes and Reports
Two reports on the project were published in January 2016 (see links below) and a third report on the supplemental breeding study will be published soon.  These reports cover social, communications and science aspects of the project.
REPORT — The Gang-gang Cockatoo Citizen Science Survey March 2014 – February 2015 Final Report (Jan 2016)
REPORT — The Gang-gang Citizen Science Survey  Community engagement and evaluation report (Jan 2016)
PRESS — Ian Warden's final Gang-gang column about the survey
Contact
If you have any queries about the survey, please contact by email to ggquery@canberrabirds.org.au .